Bonzer Brownies.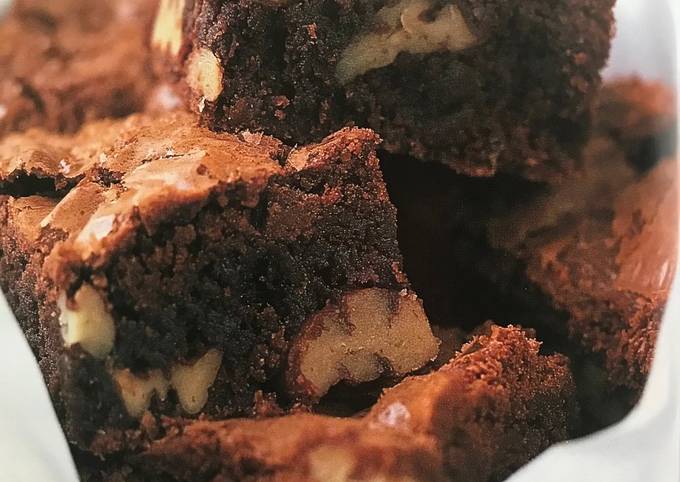 You can have Bonzer Brownies using 10 ingredients and 6 steps. Here is how you achieve that.
Ingredients of Bonzer Brownies
It's 100 g of dark chocolate (150g if you're feeling fancy), chopped.
You need 125 g of butter at room temperature.
It's 275 g of sugar.
You need 1 packet of vanilla essence.
It's 2 of big eggs.
Prepare 2 pinches of salt.
You need 85 g of flour or cornstarch.
It's 2 tablespoons of cocoa powder (don't skimp).
It's 100 g of nuts (150g if you're feeling fancy), like pecans, walnuts, hazelnuts, cashew, Brazil nuts; peanuts are particularly tasty!.
Prepare 1-2 tablespoons of rum (optional).
Bonzer Brownies step by step
Preheat the oven to 180°C = 356°F (where possible, with the fan on). Place the chopped chocolate in a heat-proof bowl and let it melt bain-marie, stirring occasionally. In the meantime, put the nuts in the food processor and chop them coarsely. Once the chocolate is melted, let it cool down while you go on with the recipe..
Put the butter in the mixer, along with sugar, vanilla essence, rum (optional) and stir. Once the mixture is fuffy and creamy, add both eggs coupled with the pinches of salt and keep stirring until everything is homogeneous and smooth..
Add the flour, the cocoa powder and the melted chocolate and let the mixer do its miracle of blending all the ingredients together perfectly (easy on the speed, the movement should not be super violent)..
Line a baking sheet (approxmately 9×13 inches = circa 22×33 cm) with parchment paper and pour the mixture onto it. In order to obtain an even layer of batter, level it out carefully with a spatula. Put everything in the oven and let it bake for 30-35 minutes, not more. The toothpick test is always useful: you want the brownies to be consistent, but very soft..
Let everything cool down inside the baking sheet, then take it out and cut it into circa 16 parts. Serve the brownies warm or lukewarm… but even cold they're delicious, of course! They pair amazingly well with some vanilla ice cream. Enjoy!.
Storage: these brownies last up to 5 days inside an air-tight container or up to 1 month in the freezer..
I love to cook. Everything looks delicious!!!