Brazilian fish stew: (moqueca). Brazilian Fish Stew – A traditional Brazilian dish with a to-die-for tomato coconut sauce. Incredible fish stew, easy to make with everyday ingredients! Fish Stews can be so boring…but not a BRAZILIAN Fish Stew!!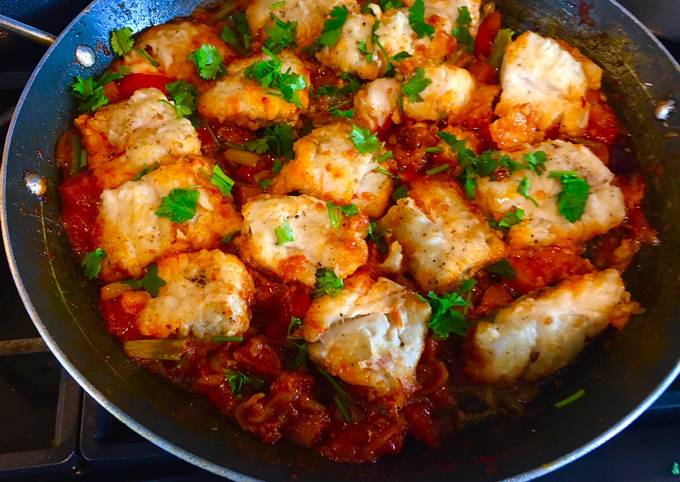 My first encounter with moqueca was a salmon version of the stew prepared by Brazilian blogger Fernanda of Chucrute com Salsicha. Moqueca, Brazilian fish stew and how to make it. This Brazilian dish may contain a few unexpected or even unfamiliar ingredients, but they are easy to find online and worth the search The result is a tropical fish stew mellowed by slices of plantain and coconut milk and accompanied by the traditional hot sauce called piri-piri and farofa, the toasted. You can cook Brazilian fish stew: (moqueca) using 20 ingredients and 3 steps. Here is how you cook that.
Ingredients of Brazilian fish stew: (moqueca)
It's of 🌻For Fish:.
You need 1 pound of white fish- Cod, Sea Bass (cut into thicker pieces).
It's 1/2 tsp of salt.
Prepare 1 of lime- zest and juice.
It's of 🌻For Sauce:.
You need 2 of –3 Tbsp coconut or olive oil.
Prepare 1 of onion- finely diced.
It's 1/2 tsp of salt.
You need 1 cup of carrot, diced.
Prepare 1 of red bell pepper, diced.
You need 4 of garlic cloves- rough chopped.
Prepare 1/2 of jalapeno, finely diced.
You need 1 Tbsp of tomato paste.
You need 2 tsp of paprika powder.
It's 1 tsp of cumin.
It's 1 cup of fish or chicken stock (I used chicken stock).
Prepare 1 of & 1/2 cups tomatoes, diced (preferably fresh).
It's 1 (14 ounce) of can coconut milk (liquid and solids).
Prepare 1/2 cup of chopped cilantro.
Prepare squeeze of lime.
Moqueca is a traditional Brazilian fish stew from Bahia where sea bass is simmered in coconut milk-based broth with vegetables and cilantro. How to make moqueca (brazilian seafood stew). Here's what you'll need to make a killer Moqueca Baiana What kind of fish should I use? You can make moqueca with several different kinds of fish and seafood.
Brazilian fish stew: (moqueca) step by step
Rinse and pat dry the fish and cut into thick peices. Place in a bowl. Add salt zest from half the lime and 1 Tbsp lime juice. Massage lightly to coat all pieces well. Set aside..
In a large pan, heat the olive oil / coconut oil over medium high heat. Add onion and salt,and sauté 2-3 minutes. Turn heat down to medium, add carrot, bell pepper, garlic and jalapeno and cook 4-5 more minutes. Add tomato paste, spices and stock. Mix and bring to a simmer and add tomatoes. Cover and simmer gently on medium low for 5 mintues or until carrots are tender..
Add the coconut milk and taste and add more salt if you need. Nestle the fish in the stew and simmer gently until it's cooked through, about 6-7 minutes.   Taste and adjust salt and squeeze with lime. Serve over rice, or naan sprinkle with cilantro & lemon & lime slice.
There is only one rule: the fish can't fall apart, it has to keep its structure during cooking. This traditional Brazilian seafood dish recipe comes from the state of Bahia in northern Brazil. The dish, moqueca de peixe, (moo-KAY-ka duh PAY-shuh) is a tropical fish stew fragrant with garlic and peppers, and enriched with coconut milk. A light and tropical Brazilian Fish Stew, Moqueca brings coconut milk and citrus together in a tasty dinner recipe. The fish stew is traditionally served with white rice to soak up all the delicious broth.
I love to cook. Everything looks delicious!!!