Nanny's Basil Marinara.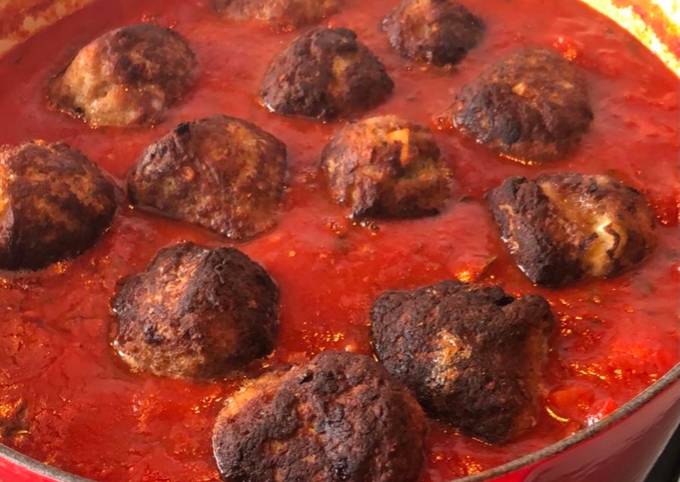 You can cook Nanny's Basil Marinara using 8 ingredients and 5 steps. Here is how you cook it.
Ingredients of Nanny's Basil Marinara
You need 4 cans of Marzano tomatoes whole and peeled with basil.
It's 1 of tube of tomato paste.
It's 1 of spanish onion.
It's 8 cloves of garlic.
It's of olive oil.
You need of Fresh basil.
It's 1 cup of dry red wine.
You need of salt, pepper, dried oregano, brown sugar (or honey) and a Parmesan cheese rind.
Nanny's Basil Marinara step by step
In a 5 qt dutch oven pan pour about 2 table spoons of the olive oil into the pan. Set flame to medium/high and add 1/2 of the onion. Onion should be chopped well but not minced. As the oil begins to sizzle the raw onion lower flame to medium and add a pinch of salt and some fresh ground pepper. Have the cloves of garlic minced and wait till the onions softened and become browned (Don't burn them and be sure to stir them constantly). The garlic can be added and stirred in with the cooked onions.
You may add more olive oil to the pot (to cover the garlic) and prepare to add your 4 cans of tomatoes to the pot. The tomatoes should be crushed into a consistency you would like your sauce to be. I like it a little chunky. Stir all the cans with the cooked onions and garlic well. Add half the tube of paste in and stir in. If the sauce is bubbling lower the heat and get ready to add the cup of wine..
Now you can add additional salt, fresh pepper and 1-2 table spoons of dried oregano. Stir well and prepare to add fresh basil. Basil should be washed and chopped (about a handful) and stirred into the pot. Constantly taste sauce and now add 1 table spoon at a time the brown sugar (add until the sweetness is what you like). At this point you can stir it well and lower flame to simmer..
Add a slice of the rind of Parmesan cheese and place lid onto the pot. You want to cook the alcohol from the wine off so about another 2 hours of cooking. Simmering longer will intensify the sauce but stir often as to not burn the sauce. I like to refrigerate one day and serve the next day with about 30 minutes of reheating at low/medium heat. I find this helps the sauce thicken. Make sure to remove cheese rind before serving.
Follow FullFlavorKitchen for the amazing meatball recipe that is perfection with this sauce.
I love to cook. Everything looks delicious!!!