Spanish Style Chickpeas and Rice.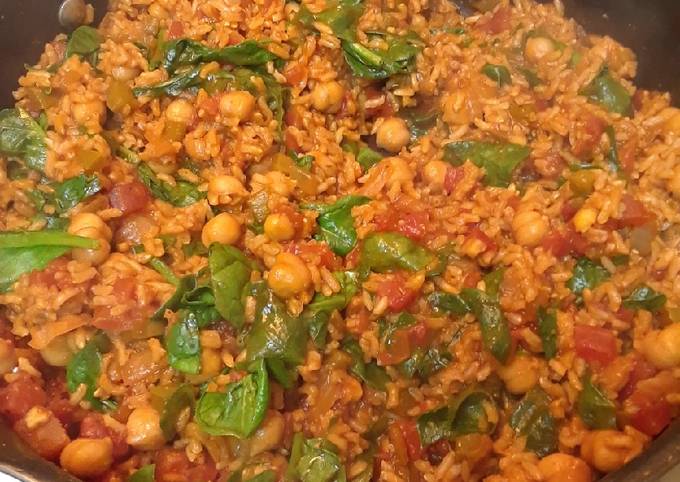 You can have Spanish Style Chickpeas and Rice using 15 ingredients and 5 steps. Here is how you cook it.
Ingredients of Spanish Style Chickpeas and Rice
Prepare 2 tbsp. of olive oil.
You need 1/2 of yellow onion, diced.
Prepare 1 of small bell pepper, diced.
You need 2 cloves of garlic, minced.
Prepare 1 cup of long grain white rice (uncooked).
Prepare 1 can (14.5 oz.) of diced tomatoes, undrained.
It's 1 can (15 oz.) of chickpeas, drained and rinsed.
You need 1 1/2 tsp. of smoked paprika.
Prepare 1 tsp. of cumin.
You need 1/2 tsp. of each oregano, salt.
You need 1/4 tsp. of cayenne pepper.
It's to taste of freshly cracked black pepper,.
You need 1 1/2 cups of unsalted vegetable broth.
Prepare 2 cups of chopped spinach.
Prepare of Fresh lemon wedges, for serving.
Spanish Style Chickpeas and Rice step by step
The original recipe does call for long grain white rice, but I always make it with this quick cook brown rice. It's different from instant and takes about the same amount of time as white rice to cook. It's interchangeable for the white rice in this recipe. To use long grain brown rice (not quick cook), increase the liquid by 1/2 cup and increase cook time to 40 minutes..
Heat the oil in a large, deep skillet with a tight fitting lid over med-high heat. Once it's hot, add the onion and peppers. Cook, stirring often, until they begin to soften. Then add the garlic and cook just until fragrant, about a minute..
Stir in the rice and toast it for a couple of minutes, stirring often. Then stir in the diced tomatoes, chickpeas and seasonings..
Once it's all incorporated, add the broth and let it all come to a boil. Once boiling, place the lid on, reduce the heat to low and let this simmer for about 20 minutes. Then turn off the heat and let it sit, still with the lid on, for 5 more minutes. After that, stir in the spinach and place the lid back on just for another couple of minutes..
Serve immediately. It's really tasty with some fresh lemon juice over it. Refrigerate any leftovers..
I love to cook. Everything looks delicious!!!