Spanish/Mexican Rice.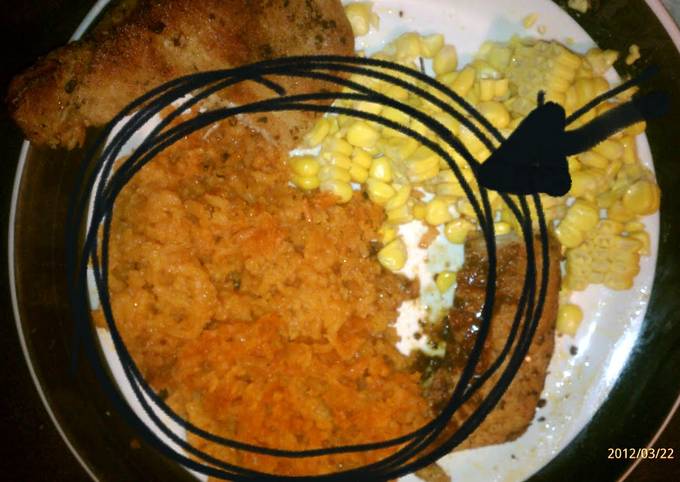 You can have Spanish/Mexican Rice using 8 ingredients and 8 steps. Here is how you cook that.
Ingredients of Spanish/Mexican Rice
It's 4 cup of rice.
Prepare 1 medium of tomato.
It's 1 clove of garlic.
You need 1/4 of onion.
It's 1 tsp of peppercron&cumen mix.
Prepare 2 tsp of korr caldo de tomate w/ 'chicken flavor. or some kind of chicken flavoring. 1/2cup of chkn stock would even work.
Prepare 1 tbsp of vegetable oil.
It's 8 cup of water.
Spanish/Mexican Rice step by step
in a large skillet,or pot. medium heat. add oil and rice. (enough oil to coat all the rice evenly).
in a blender, blend together tomato, onion, garlic and a bit of water to smooth it out. blend well. set aside.
in a spice grinder, grind the peppercron & cumen mix. set aside.
make sure to keep stirring your rice, you CANNOT let it burn. keep the rice moving til its has a golden brown color to it.
when your rice starts browning up make sure to turn the heat down and keep mixing don't let it burn. add the tomato, onion, garlic & also add the ground cumen& peppercron mix. stirring occasionally.
add about 3 cups of water right away. mix in chicken seasoning(ckn stock) whatever u have).
let it simmer on low heat, covered. checking constantly. to make sure your rice don't dry up and burn..
DO NOT MIX YOUR RICE after u have combined all ur ingredients well and started simmering. add water occasionally, til your rice is tender and puffy. or ready according to package..
I love to cook. Everything looks delicious!!!