chicken marinade. Directions and recipes for honey mustard, lemon pepper, jerk, fajita, cilantro lime. Marinating chicken infuses it with flavor and keeps it moist while you cook it. To marinate chicken, you'll need to make a marinade using oil, vinegar or another acidic ingredient.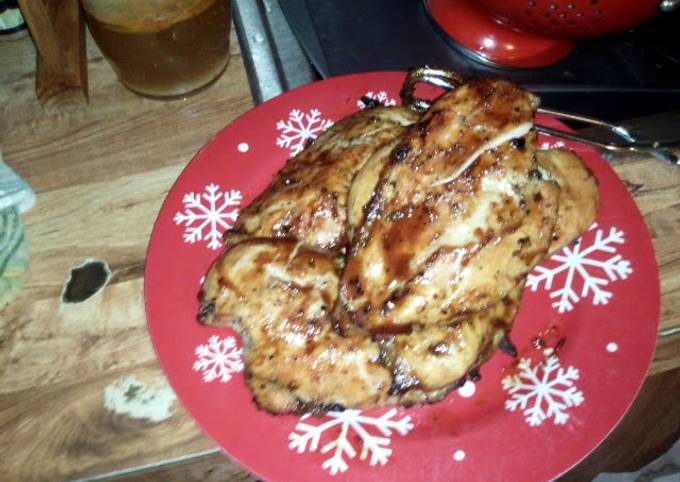 When marinating chicken, make sure to separate the pieces, allowing the marinade to reach as. This is such a great Chicken Marinade – it infuses chicken with savoury flavour as well as making it And therein lies the beauty of this marinade. No dried out chicken breast here. You can have chicken marinade using 6 ingredients and 3 steps. Here is how you cook it.
Ingredients of chicken marinade
You need 3 lb of boneless skinless chicken breast.
You need 1/2 cup of olive oil.
Prepare 2 tbsp of roasted garlic and herb grill mates seasoning.
You need 1/2 tsp of onion powder.
It's 1/2 cup of soy sauce.
You need 1/4 tsp of garlic powder.
When you're done cooking the chicken, brush on some more marinade for extra juiciness. When you marinate chicken, the meat is your blank canvas; the marinade, your palette with which you paint on the deliciousness. And there are so many options! Learn how to make a range of delicious chicken marinades, and how long to leave the meat in these sauces so it remains moist, tender and packed with flavour.
chicken marinade step by step
put chicken in a pan to marinate it in.
mix all ingredients together and stir.
pour over chicken and let sit for a while.
Marinades for chicken are wonderful for preparing dinners ahead of time, as many of them can be Made from fresh and flavorful ingredients, this grilled chicken marinade is incredibly easy to make. Freeze them, grill them, oven bake them or slow cook them. Marinated chicken is more moist and flavorful than regular old chicken, and every Healthy Chicken Marinades. Basics like lemon, soy sauce, honey & Worcestershire transform mundane into mouthwatering in a few easy minutes! The best chicken marinades that are easy, healthy, and absolutely delicious.
I love to cook. Everything looks delicious!!!